Photodynamic Therapy (PDT)
Photodynamic treatment (PDT therapy) is the one of the most recent advances in acne therapy and the treatment of pre-cancerous skin lesions.
The photodynamic procedure involves the application of a photosensitising agent in the form of a cream, which is then activated with a blue and red light. The medicated cream used in PDT therapy inactivates the bacteria that trigger acne, exfoliates the skin to unclog pores, and shrinks the sebaceous glands in the skin.
This specific medicated cream also effectively destroys traces of certain superficial pre-cancerous cells within the skin. The medicated PDT photodynamic treatment program has significant and long lasting effects. For severe acne, you may require 3-6 treatments administered 2-4 months apart.
For Actinic Keratoses, a minimum of 2 treatments is recommended spaced 6 weeks apart.
Patients undergoing PDT therapy must wear sunscreen to protect their skin from sunlight and other strong lighting sources post treatment permanently for optimal results.
To see if you are a candidate for this treatment book a consultation with Dr Georgina Konrat.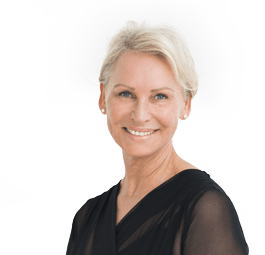 Bachelor of Medicine, Bachelor of Surgery (MBBS)
Surgical Fellow of the Australasian College of Cosmetic Surgery and Medicine (FACCSM)
Registered Medical Practitioner: (MED0001407863)
General Registration

How Photodynamic Therapy (PDT) Works
PDT treatment will take 2-6 hours depending on what you are being treated for.
A special cream containing the PDT medication will be given to you to apply the evening prior to your light treatment.
The evening prior to your treatment, exfoliate and cleanse your skin, dry the area to be treated and massage in the cream provided ensuring you do not get cream in your eyes. Turn off all lights and go to bed.
In the morning, wash and dry the area to be treated.
You need to bring a hat and scarf to tie around your hat and face and bring suitable clothing to keep all treated areas completely covered after the treatment.
When you arrive, your skin will be cleansed again.
You will be placed under Blue LED Light and sometimes also Red LED light for 20 – 30 minutes.
After the PDT treatment, your skin will feel warm to hot and will look as if you have a moderate to severe sunburn.
Over the first 24 hours there will be tightness, redness, and minor swelling. The treated area is cleansed with warm water and kept moist with Vaseline or other gentle softening creams such as post Laser cream.
Over 3-7 days, some skin may peel. There may be an increase in whiteheads and pimples in breakout-prone skin during this time. Thereafter the skin will heal and rejuvenate.
We recommend a gentle exfoliation of the skin on days 4/5 to remove any dead or dry skin on the surface of the treated area.
You will need to stay out of direct light for the first 48 hours post PDT treatment and you will be seen 2 weeks post-treatment for a check-up.
Learn more from Dr Georgina Konrat
It is critical that you are fully informed about the procedures: the information on this website has been written and is regularly updated by Dr. Konrat. However, you should never make a decision by reading a web page alone, no matter how comprehensive the information is. We encourage you to book a personal consultation with Dr. Konrat, where she will assess you, explain the procedure and your options in detail and help you to understand all the options as well as the risks and complications of labiaplasty surgery.
If you feel ready to book a consultation with Dr Georgina Konrat, please click on the "Book Now" button at the top of the page.
Please note the important facts below:
A GP referral is required to book your consultation.
Two consultations are required. There is no extra fee for the second consultation. One of the consultations is required to be in person with the Doctor performing your procedure. One of the consultations may be conducted via telehealth via FaceTime or zoom.
Please note that a 7 day cooling off period is required following the second consultation prior to booking a surgery date.
It is critical that you are fully informed about the surgical procedure you are considering. An in-depth consultation and examination informs you of the options as well as the risks and complications of your surgery.
Dr Konrat and her team aim to provide every patient with the highest standard of care from their first phone call through to the final post operative visit.
Results, risks, recovery from surgery and healing vary between individual patients and are dependent on factors including, but not limited to genetics, diet, exercise, co-operating with post operative appointments and care.
Frequently Asked Questions
Photodynamic Therapy (PDT)
$ price upon consultation *
We offer an honest, client-focused costing system. If you would like to discuss PDT treatment or additional individual needs, please call our clinic on 07 3391 5710. You will be provided with an accurate quote during your consultation, providing confident knowing you're receiving a treatment specifically tailored to your individual needs.

Common Procedures Performed by Dr Konrat:
We would love to help you explore your options at our Brisbane Cosmetic Clinic and realise your vision, so please get in touch! We are more than happy to assist you.