Labiaplasty (DOVE) Surgery
All female operating theatre team.
Dr. Konrat operates in Brisbane, Gold Coast and Sydney.
Female Cosmetic Doctor: Pioneer of Labiaplasty (DOVE) Surgery
Dr Georgina Konrat has pioneered and designed her own unique Labiaplasty (DOVE) surgery which reduces, reshapes, and recontours the most intimate and private parts of a woman's body.
Dr Konrat's (DOVE) Labiaplasty surgery is a complex technique that is not widely practised. Its advantages are that it addresses concerns regarding the clitoral hood, labia minora, perineum and labia majora and delivers a natural result while avoiding many of the potential problems experienced with the other surgical techniques. Most importantly, being only a superficial dissection and not a 'full thickness' wedge of tissue removal, the blood supply and nerve innervation to the labia are not compromised, and therefore, normal sensation of the labia is maintained. Dr Georgina Konrat's aim is to inform and empower women with the right knowledge to make the most informed decision possible regarding Labiaplasty surgery.
Dr Konrat is based in Brisbane at Brisbane Cosmetic Clinic, but also operates on the Gold Coast and in Sydney.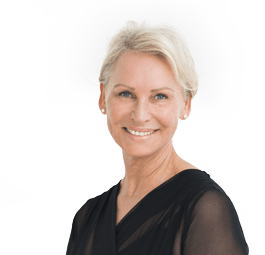 Bachelor of Medicine, Bachelor of Surgery (MBBS)
Surgical Fellow of the Australasian College of Cosmetic Surgery and Medicine (FACCSM)
Registered Medical Practitioner: (MED0001407863)
General Registration

Dr Konrat and her team care about their patient's health. Our inclusive approach to Cosmetic surgery means we place emphasis on pre and post operative wellness to prepare patients physically, mentally and nutritionally for surgery.
Why DOVE Labiaplasty?
Why choose DOVE Labiaplasty
Labiaplasty is known by a range of names: labia reduction, labia minora surgery, labioplasty, labia majora reduction, vaginal rejuvenation, and vagina surgery.
Dr. Georgina Konrat designed this unique development in Labiaplasty surgery over 15 years ago and continues to research and refine her procedure with the aim of further reducing known risks and complications. It's called DOVE Labiaplasty surgery and aims to reduce and reshape the labia minora and the surrounding skin, which includes excess skin of the clitoral hood. The surgery may include treatment to the surrounding tissues like the outer lips or labia majora and mons pubis or pubic mound.
Many women are born with large or irregular labia minora (inner lips), and have excess skin folds which may extend to the clitoral hood skin. For others, the appearance of these can be altered by childbirth, weight gain followed by weight loss, and trauma. Whatever the cause, patients report that labia which are too large or uneven have been reported to cause problems such as discomfort and irritation throughout day-to-day and intimate life.
Dr. Georgina Konrat's DOVE Labiaplasty procedure provides a more inclusive approach to the female genitalia. The focus of the technique is on both the function and the appearance of the entire female genital area, and this is what sets it apart from many other types of Labiaplasty currently known. Concerns regarding asymmetry of the labia majora or labia minora, excess skin folds, discomfort, and recurrent infections are amongst concerns reported by patients. The procedure is designed to maintain the normal function of the genitalia without injury to any important nerves, whilst also addressing any concerns regarding appearance.
Dr Konrat consults and operates in Brisbane, Gold Coast and Sydney.
Types of Labiaplasty
How is DOVE Labiaplasty Different?
Learn more from Dr Georgina Konrat
It is critical that you are fully informed about the procedures: the information on this website has been written and is regularly updated by Dr. Konrat. However, you should never make a decision by reading a web page alone, no matter how comprehensive the information is. We encourage you to book a personal consultation with Dr. Konrat, where she will assess you, explain the procedure and your options in detail, and help you to understand all the options as well as the risks and complications of labiaplasty surgery.
If you feel ready to book a consultation with Dr Georgina Konrat, please click on the "Book Now" button at the top of the page.
Please note the important facts below:
A GP referral is required to book your consultation.
Two consultations are required. There is no extra fee for the second consultation. One of the consultations is required to be in person with the doctor performing your procedure. One of the consultations may be conducted via telehealth via FaceTime or Zoom.
Please note that a 7 day cooling off period is required following the second consultation prior to booking a surgery date.
It is critical that you are fully informed about the surgical procedure you are considering. An in-depth consultation and examination informs you of the options, as well as the risks and complications of your surgery.
Dr Konrat and her team aim to provide every patient with the highest standard of care from their first phone call through to the final post operative visit.
Results, risks, recovery from surgery, and healing vary between individual patients, and are dependent on factors including, but not limited to genetics, diet, exercise, co-operating with post operative appointments and care.
Pre-Procedure
As of 1st July 2023, the requirements for Cosmetic Surgery patients will be as follows:
A GP referral is required to book your first consultation.
Two Consultations are required. One of the consultations may be via Zoom. The other consultation will be with Dr Georgina Konrat in person in either her rooms at Brisbane Cosmetic Clinic or, for NSW patient, in Sydney.
Following the second consultation, a mandatory 7 day cooling off period is required before a surgery date can be booked.
At your consultation Dr Konrat will take a detailed medical history, perform an examination and go through all the procedure options including the associated risks and complications.
Following your first consultation you will be provided with a quote for the cost of the procedure, along with a detailed information brochure about your surgery.
Before Surgery:
Dr Konrat's goal is to ensure you are well informed about Labiaplasty surgery, and to make your surgery experience as comfortable as possible.
Eat a healthy nutrient dense diet leading up to surgery.
Regular exercise
Please stop smoking for 6 weeks before and 6 weeks after surgery.
Before making a decision to proceed with surgery, please review our Consent for Surgery form about this surgery.
Special requirements for DOVE Labiaplasty Surgery
Blood tests are requested.
Brazilian wax is preferred approximately 3 – 5 days prior to your booked surgery date
Have your prescriptions filled at the chemist
Baby wipes: non perfumed for use at the toilet instead of toilet paper.
Cotton buds: Dr Konrat recommends you use warm water and cotton buds to clean your stitches twice daily for two weeks after your procedure.
Panty Liners: wear a panty liner in cotton underwear for 4 weeks after your procedure.
Pack your bag for Hospital: full "granny panties" cotton underwear with a panty liner to prevent irritation to your stitches, perfume free wipes to use instead of toilet paper for the first two weeks after surgery.
You will need a responsible adult to drive you home and stay with you overnight.
There are some definite Do Not's:
No sexual activity for 4-5 weeks
No G-Strings, nylon lace panties, tight jeans or clothing that will irritate your stitches
No tampons for 6 weeks: these will irritate and at times tear your stitches.
No bike riding or horse riding or any exercise that irritates your stitches for 6 weeks.

If you ride a horse or bike, we recommend wearing bike shorts with a chamois insert under your jodhpurs for the first 2 months after you return to riding. This means you can commence riding at the 6 week mark after your surgery.

No swimming, spas or baths until the stitches are removed 2 weeks after your procedure.
The Procedure
Labiaplasty surgery in Brisbane and Sydney is performed in an accredited and licensed Day Hospital under simple sedation with long-acting local anaesthesia or under a general anaesthetic if required or requested.
When you arrive to Hospital, you will be admitted by one of the operating theatre nurses.
DOVE Labiaplasty surgery takes approximately one and half hours but you must be prepared to be in Hospital for at least half a day.
Local anæsthetic cream is applied to the area. This makes the area very numb. You will be given oral sedation. This will make you sleepy and relaxed. Even the most nervous or anxious of patients find the sedation very helpful.
Pre-operative photos are taken, and surgical drawings mark the areas to be treated.
Throughout the procedure, you will be comfortable and the surgical area completely numb. At times you may even drift off to sleep.
Post-Procedure
You must organise for a responsible adult to collect you from hospital, take you home, and stay with you overnight.
It is important to take your first dose of pain medication as soon as you arrive home from Hospital. This will usually be a Celecoxib tablet as well as Pandeine Forte. Follow your medication instructions closely.
We encourage ice-packs or packs of frozen peas wrapped in a pillowcase to be placed on and off the operated area in the first 24 hours. This will reduce swelling and inflammation and pain in the first 24 hours. Do not leave ice packs on for extended periods.
Drink plenty of water. Eat lots of vegetables, salads and fruits to assist with healing and ease of bowel movements. Good nutrition helps with healing.
Looking after your stitches: the stitches are clear and very tiny. Every morning and night, dip cotton buds in a warm bowl of water and using the cotton buds, clean your stitches. Clean any secretions or collections away, then pat dry. Using the cotton tips, apply the ointment supplied to your stitches.
If you experience a thrush infection, extreme pain, redness or if extreme swelling develops, call the office during office hours or the after-hours emergency number provided on your pre and post operative instruction sheet.
What to expect over the next 2-weeks following the procedure?
In some cases there may be a number of tiny clear dissolvable stitches in the skin.  Although these are dissolvable, most of the stitches dissolve over two weeks and any remaining stitches are removed gently 14 days after your procedure. You will come to the Brisbane or Sydney clinic for removal of the stitches.
You may be prescribed antibiotics to take orally for 1-2 weeks after the surgery.
Most of the stitches not yet dissolved will be removed at your 2 week post operative review.
Most women find they can resume normal activities after 3-5 days.
Usually, sexual activity may resume in 4-5 weeks.
The first 7-10 days can be a little uncomfortable and you should not wear jeans, tight pants or other restrictive clothing during this time.
We highly recommended that you rest for at least 3-4 days following the surgery. After that, for the next week, you should gradually return to gentle daily activities.
Remember vigorous exercise may cause swelling and impair healing in the first two weeks post procedure.
You should never make a decision by reading a web page alone, no matter how comprehensive the information is. We encourage you to book a personal consultation with Dr Konrat, where she will assess you, explain the procedure in detail and help you to understand all the options as well as the risks and complications of surgery in general and DOVE labiaplasty surgery in particular.
General risks of Surgery
Because surgery is such a vital part of modern medicine, there is a tendency to forget that there are risks associated with every type of surgical procedure including Labiaplasty surgery. While these risks are small, every person undergoing surgery should be aware of the risks.
Wounds
All internal and external wounds need time to heal after your procedure. Sutures or stitches and other materials are used to hold wounds closed while they heal.
Delayed Wound Healing
In most cases, many of the stitches will have dissolved by the time you attend the clinic for your first post-operative visit. In a small percentage of cases, the wound edges may not yet have completely closed. This is called delayed wound healing and will slowly heal over the next 2-3 weeks. Rarely, this may result in a more visible scar.
Infection
This is rare: Despite taking precautions, infections can occur during and just after any procedure.
However, minor infections can possibly occur and can affect the rate of healing. If this happens, some small areas may take a little longer to heal than others. The genital area is an area where a large number of bacteria and other organisms normally live every day. Their environment is disturbed following surgery and laser procedures, with the potential for minor infections to occur which is why taking the prescribed antibiotics is so important.
Bleeding / Bruising
Rarely minor bleeding may develop. When it does occur, please notify Dr. Konrat or her surgical nurse so that they can assist you immediately and perform an assessment. Early intervention is best and assists with healing as expected. We encourage our patients to take photographs and send to our secure medical email for immediate and initial assessment.
Swelling
The tissues in this area are very delicate and any surgery or Laser procedure can cause minor swelling which may persist for some weeks. This is not unusual and will heal well in time. Women often experience similar healing after childbirth, particularly if they required stitches. Extremely rarely, more sever swelling can develop. We recommend reporting to the clinic as soon as you are aware so Dr Konrat can assess the swelling and provide options for treatment.
Asymmetry
Although all care is taken to achieve complete symmetry, both sides may not be exactly the same prior to the procedure and is therefore difficult to make them perfectly symmetrical after the procedure. During your consultation, Dr. Konrat will help you understand what you can expect.
Pulmonary Risks
Patients have a risk of forming a blood clot in the leg (deep vein thrombosis) that breaks off and gets stuck in the lung circulation (pulmonary embolism). This is minimised by the wearing of surgical 'stockings' during any procedure, and by getting out of bed as soon as possible. As the Dove Labiaplasty does not require a general anaesthetic, you will be awake and independent as soon as the procedure is over.
Risks of Anaesthesia
If you are having Dove Labiaplasty, this will be performed under local anaesthesia with sedation in a fully accredited and licenced Day Surgery. Extremely rarely patient choose to have a General Anaesthetic. This may be due to anxiety, or if you choose to have an accompanying procedure this will require General Anaesthetic. Dr. Konrat will take a full medical history, will order a number of tests prior to your procedure to ensure your health is optimal and appropriate before the surgery.
Mental Health Disorders and Elective Surgery
It is important that all patients seeking to undergo elective procedures including Labiaplasty surgery have realistic expectations that focus on improvement rather than perfection. Complications or less than satisfactory results are sometimes unavoidable and may require additional surgery. This can be stressful for patients.
In your consultation prior to surgery with Dr. Konrat please openly discuss any history of emotional depression or mental health disorders. If you are unsure whether a matter is relevant, please mention it anyway.
Do you live in Brisbane, Sydney, the Gold Coast, or "out of town?" and still have questions about Labiaplasty surgery?
Dr Georgina Konrat and her cosmetic surgery Brisbane team are here to help you become fully informed about Labiaplasty surgery and empower you with the knowledge you need to make important decisions about surgery. We welcome enquiries from patients in Brisbane, Sydney, the Gold Coast, and Australia wide.