VIRTUAL CONSULTATIONS AVAILABLE AT BRISBANE COSMETIC CLINIC
Following Government initiatives to manage the spread of COVID-19, Brisbane Cosmetic Clinic is ceasing all operations / procedures, and "pausing practice" from 30th March.
In light of this, we are pleased to announce that our online consultations will be available as of today, as part of our commitment to support our patients throughout this unprecedented time.
Telehealth medical consultations can be made by booking online through Booksteam on our website: www.brisbanecosmetic.com.au and via email, to arrange a time to consult with Dr. Georgina Konrat. Routine consultation fees apply.
Dr Konrat and her team hope you all stay well and stay safe during this health crisis. Please make sure you stay up to date with all new government advices, wash your hands and surfaces regularly and practice social distancing as has been advised by the Chief Medical Officer.
*This Closure / Stand Down Period will be reviewed as Government initiatives and community and business responses continue to change.
Please note that we are currently not able to provide our usual services due to COVID-19 regulations, however Dr Georgina Konrat is still able to take virtual consultations for both surgical and non-surgical procedures to streamline the process for you later.
We know that cosmetic surgery is a serious decision, and we will do everything we can to support you through the decision making process and ensure you have the information you need to make a fully informed decision.
If you're thinking about a surgical procedure, you can have an online consultation with Dr Konrat now, so that you can start considering your options and preparing for your procedure. Then when we are able to recommence elective surgical procedures, you'll be ready to book in.
Email us today to info@brisbanecosmetic.com.au to book your consultation or schedule online using the button below.
Schedule My Consultation
Skill. Integrity.
Expertise.
Patient care.
Your Brisbane Cosmetic Clinic
Enhancing and rejuvenating your aesthetic is what we do. We work hard at our cosmetic clinic in Brisbane to create a comfortable and enjoyable environment for you and are always striving to maintain our reputation built on expertise and skill. At our Brisbane cosmetic clinic, you will feel welcomed by our friendly team from the moment you arrive, and after your procedure you will leave feeling refreshed, rejuvenated, and confident.
Our range of cosmetic surgery and cosmetic clinic procedures are all performed under the careful skill and guidance of Dr Georgina Konrat, a cosmetic surgeon in Brisbane who has helped thousands of women and men just like you achieve their vision for their bodies. She and her highly qualified all-female medical team rate skill, integrity, expertise and patient care equally important in achieving the best result for each patient.
"Great communication and trust between cosmetic surgeon and patient, meticulous planning, attention to detail and excellent after-care. These are critical to a great outcome — and it's how we work, for every patient."
We are excited to discuss your treatment with you and look forward to welcoming you to our clinic.

Dr Georgina Konrat
BSc BSc (Hons) MBBS FACCS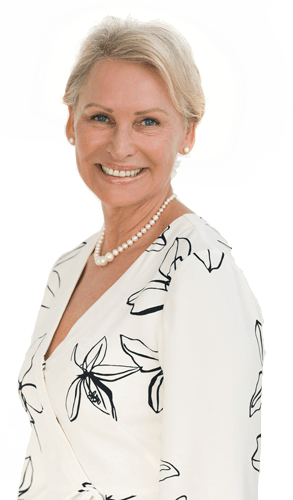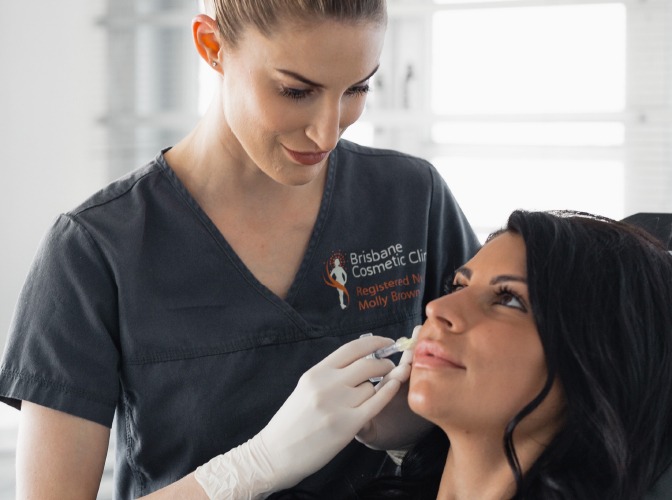 Cosmetic Injections by Nurse Molly at our Brisbane Cosmetic Clinic
Molly Brown adds post-graduate qualifications in operating theatre nursing and cosmetic nurse injecting to her RN qualification. "I'm constantly fascinated and excited by the amazing advances in cosmetic medicine. But most of all, I love applying the best in cosmetic injecting and treatments to our patients. I love achieving beautiful results for our patients."
Cosmetic injections can be used at our cosmetic clinic in Brisbane to achieve a wide range of results, whether you are looking to refresh tired-looking eyes, get a fuller lip, or work towards contouring in the face. Cosmetic injections are a great way to get visible results in the face and body, and Nurse Molly's care, skill, understanding, and expertise means that we are the first choice for women and men who are looking for stunning lasting results.
RN Molly Brown
Cosmetic Nurse Injector, Practice Nurse Manager
What we offer at Brisbane Cosmetic Clinic
The services that we provide at Brisbane Cosmetic Clinic are all administered and overseen by our cosmetic surgeon, Dr Konrat. By choosing a cosmetic clinic for your cosmetic, beauty, and skin treatments means that you are taking the step to ensure that suitably trained and qualified professionals are taking care of you. Some of the most common treatments that we perform on our patients include:
Breast augmentation and other breast-related surgeries – our patients trust the gentle care, skill, and expertise of Dr Konrat for their breast surgery treatment.
Liposuction and skin surgeries such as tummy tuck – liposuction treatments restore confidence and give you a new lease on life, while a tummy tuck can rejuvenate your body and give you back your skin's elasticity and tightness following pregnancy.
Cosmetic injection treatments – our patients love the skin and expert guidance of Nurse Molly for their lip fillers, dermal fillers, contouring and fat dissolving treatments. Check out her handiwork on our Insta!
Whatever type of treatment you are seeking, whether it is a skin rejuvenating treatment or cosmetic surgery, our team of experienced professionals are on hand to discuss your needs and guide you moving forward.
Not sure where to start? Let us help you.
We would love to help you explore your options at our Brisbane cosmetic clinic and realise your vision, so please get in touch and we'll be more than happy to assist you.Call us on 07 3391 5710 or request a callback using the form below.
Why choose us for your cosmetic clinic treatments?
We provide a range of treatments at the Brisbane Cosmetic Clinic, from cosmetic injections and laser skin treatments through to cosmetic surgery procedures. We are an experienced team of professionals who have a deep understanding of the cosmetic treatments industry. We have worked with countless patients in providing skin and cosmetic treatments and can instruct and guide you.
Not sure how many milliliters of dermal filler you need for your lips? We can show you images and educate you on what to expect.
Looking for information about a tummy tuck? Dr Konrat will answer all of your questions and guide you through the process.
Need a mole removed, or want an acne treatment? We offer a medical approach to every treatment and will discuss the best possible treatment for your individual circumstances.
Every person is different, and everyone will need a different approach to suit their skin and body. The best option is to get in touch with us to discuss what you are after and let our caring team guide you in choosing which treatment is right for you.