Blepharoplasty (Eyelid Surgery)
Dr. Konrat operates in Brisbane, Gold Coast and Sydney.

Upper Eyelid Blepharoplasty (Eyelid Surgery)
Blepharoplasty or Eyelid Surgery is a surgical procedure designed to remove excess skin folds in the upper eyelids and excess fat pads which become prominent with age and skin laxity both above and below the eyes.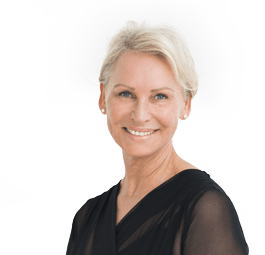 Bachelor of Medicine, Bachelor of Surgery (MBBS)
Surgical Fellow of the Australasian College of Cosmetic Surgery and Medicine (FACCSM)
Registered Medical Practitioner: (MED0001407863)
General Registration

There are a number of different approaches to Blepharoplasty or Eyelid Surgery.
Dr Konrat will evaluate your personal situation to help you determine the best treatment option for you. She will check your general eye health to examine your vision, ocular muscles and peripheral visual fields as part of your consultation to determine if Blepharoplasty Surgery is the right option for you.
Learn more from Dr Georgina Konrat
It is critical that you are fully informed about the procedures: the information on this website has been written and is regularly updated by Dr. Konrat. However, you should never make a decision by reading a web page alone, no matter how comprehensive the information is. We encourage you to book a personal consultation with Dr. Konrat, where she will assess you, explain the procedure and your options in detail and help you to understand all the options as well as the risks and complications of Blepharoplasty Surgery.
If you feel ready to book a consultation with Dr Georgina Konrat, please click on the "Book Now" button at the top of the page.
Please note the important facts below:
A GP referral is required to book your consultation.
Two consultations are required. There is no extra fee for the second consultation. One of the consultations is required to be in person with the Doctor performing your procedure. One of the consultations may be conducted via telehealth via FaceTime or zoom.
Please note that a 7 day cooling off period is required following the second consultation prior to booking a surgery date.
It is critical that you are fully informed about the surgical procedure you are considering. An in-depth consultation and examination informs you of the options as well as the risks and complications of your surgery.
Dr Konrat and her team aim to provide every patient with the highest standard of care from their first phone call through to the final post operative visit.
Results, risks, recovery from surgery and healing vary between individual patients and are dependent on factors including, but not limited to genetics, diet, exercise, co-operating with post operative appointments and care.
You should never make a decision by reading a web page alone, no matter how comprehensive the information is. We encourage you to book a personal consultation with Dr Konrat, where she will assess you, explain the procedure in detail, and help you to understand all the options as well as the risks and complications of surgery in general and blepharoplasty surgery in particular.
Blepharoplasty is routinely preformed as Day Surgery under sedation with long acting local anaesthetic but in some cases will be performed under general anaesthesia. The procedure takes one to two hours.  You will be required to stay in the recovery room under observation to ensure that no unexpected swelling or bleeding occurs, and that normal vision is present. You must have a responsible adult to drive you home and care for you for the first 24 hours following your surgery.
In upper eyelid Blepharoplasty, the 'ellipse' of extra skin (the skin to be removed) from the upper eyelid is marked in the sitting position. The bottom edge of the ellipse follows the line of the natural eyelid crease and extends from the area just above the tear duct along to the outer edge of the eyelid opening, where it then angles slightly up and outward into an existing laugh line.
Incisions are carefully placed so that within several months, they will hardly be noticeable. On the upper lids, the incision is about an inch long and lies in the fold of the eyelid. On the lower lids, the incision is made just under the lashes in the natural crease.
The skin above the incision is gently pinched while the eyes are closed to determine the maximum amount of skin that can safely be removed without pulling up on the upper eyelid margin or down on the brow. To avoid a 'stark' outcome, the actual amount of skin and/or fat removed is always a little less.
In upper eyelid Blepharoplasty, the upper eyelid skin is removed using a radio-frequency device with a fine needle point to perform the surgery. This results in reduced swelling and bruising and causes less heat damage to surrounding tissues routinely resulting in a finer less noticeable scar. Very occasionally, the underlying orbicularis muscle might be overdeveloped or stretched: if this is the case, some slight trimming may be required. If there is 'orbital' fat bulging, a structural layer known as the orbital septum is opened. One or both fat pads will be thinned slightly (over-thinning would lead to hollowing.) The upper eyelid's opening muscle (levator muscle complex) is located below the fat. It is identified and then carefully avoided during surgery. Eyelid surgery which penetrates the orbital septum must be performed in an accredited and licensed Day Hospital.
Lower eyelid Blepharoplasty is a more complex operation compared with upper eyelid surgery. It is performed in an accredited and licensed Day Hospital under general anaesthesia and also takes up to two hours. To achieve optimal results, lower eyelid blepharoplasty may require a combination of procedures removing excess skin and/or fat from the lower eyelid fat pads.
Bleeding is meticulously controlled. The skin incision is closed using very fine stitches in the skin. If there is no fat bulging, the orbital septum is left intact, and no fat is removed from the middle pocket. At Brisbane Cosmetic Clinic, "Tissue-sparing Blepharoplasty" has become the rule rather than the exception as we aim for the most natural result possible.
Before making a decision to proceed with surgery, please review our Consent for Surgery form about this surgery.
Blepharoplasty (eyelid) Surgery is a day surgery procedure, which means you go home on the same day. It is a legal requirement for your safety to organise someone to drive you home and to stay with you for the first 24 hours after surgery. It is not possible to take a taxi, Uber or public transport of any kind.
You should expect mild discomfort, which can be controlled with prescription oral pain medication. After about three days, you may possibly no longer require prescription pain medication.
Swelling and bruising improve within 7 days, depending on the extent of the surgery. The bruising first moves down into the cheek and even the neck before fading. Light camouflage creams containing 'green' colour help to hide bruising on the cheeks, but you should not apply this to the eye area for the first 10 – 14 days. Bandages are not needed.
Glasses may be worn immediately, but you should wait 14 days to wear contact lenses. You must wait 14 days before using eye makeup. Your stitches will be removed between day 9 – 12 following your procedure.
You will be presentable in public in 7 – 14 days, depending on the extent of the surgery. You may feel capable of returning to work in 7 days, but your appearance may be a limiting factor. You may resume exercise in two weeks. You must wear sun protection for at least six months, although we encourage you to use it permanently (SPF 30+).
You should see your final result in 6-12 weeks, and the scars should fade significantly within six months.
Reducing Swelling and Bruising:
If you leave the operating theatre without an eye pad, begin ice pack treatment as soon as possible after you get home.
Sit upright as much as possible during the day, and sleep propped up to about 45 degrees for the first few days after surgery. This improves circulation, reduces swelling and aids lymphatic drainage.
Ice Pack Treatment:
Specially designed masks are available from chemists. You need to purchase several so there is always one cooled and ready for use. Alternatively, a small bag of frozen peas or similar wrapped in a clean cotton cloth will make a good ice pack. If ice cubes are used, they need to be in a non-leaking clear plastic bag.
While sitting upright, put some clean damp gauze over the eyelids, then apply the ice pack. This can feel very cold, and you need to hold a cloth in your hand, or wrapped around your head in order to secure the pack.
Try to keep the ice pack applied to your eye for 10-15 minutes of every hour during waking hours if possible. If you cannot manage this, anything longer than 5 minutes every hour is satisfactory.
Continue the ice pack applications for three days after surgery.
Warm Compresses
On the fourth day after surgery, switch to warm flannel applications for 15 minutes every hour until the swelling and bruising has settled. Use boiled water, cooled to comfortable hand temperature, applied on a clean flannel or sterile gauze swabs.
Continue for four days, or until the bruising has subsided.
Eyelid Cleaning:
Always wash your hands first!
The first eyelid clean is done the morning after surgery.
Use damp gauze squares or saline solution. Either purchase sachets of saline or make up a simple solution with one teaspoon of salt in a litre of water that has been boiled. Leave to cool before use and make up a new batch for each use.
Soak the gauze swabs in the saline and place on the eyelids to remove superficial debris.
Dab the eyelids, moving the gauze horizontally across the eyelid, avoiding the eye. Move from the nose end (medial) to the outside corner (lateral). Clean the eyelashes from their base to tips.
After the first clean, continue twice daily cleans for one week, then once daily for the second week.
Sutures (Stitches):
The stitches used are quite secure, but still be gentle!
If 'absorbable sutures' have been used, these may not require removing.
If 'permanent' or 'non-absorbable' sutures are used, Dr Konrat will remove them between 9 and 14 days after surgery.
If a stitch breaks and the wound opens, or your vision blurs, or there is bleeding, discharge or excessive pain, please contact Dr Konrat immediately.
Blurred Vision
This is also a very rare problem. It can be caused by irritation, swelling or damage to any of the muscles that surround the eyeball and coordinate its movement. Even if these symptoms occur, they are usually temporary.
Dry Eye Syndrome
A variety of circumstances could cause dry eye syndrome, but it is most often related to lack of lower eyelid support following eyelid surgery, leading to a lower than optimal lower eyelid.
Inability to Close the Eyes
At times, the removal of too much upper eyelid skin can cause dry eye syndrome. In severe cases, skin grafting may be necessary to correct this problem. Dr Konrat prefers to take less skin than measured, to help avoid this eventuality.
Corneal Abrasion
This can occur during any eyelid operation, whether it is on the eyes, or any part of the body, because the eyes may sometimes open during surgery, rendering them susceptible to being scratched by a member of the operating team. Corneal abrasion may also result from inadvertent splash of antiseptic solution or other chemicals in the eye. Treatment involves taping the eye shut while it heals and applying appropriate eye drops.
Hollow (Sunken) Eyes
This can usually be prevented by the conservative approach advocated by Dr Konrat. With the development of Hyaluronic acid dermal fillers, hollowing around the eyes may be treated.
Bruising
Blindness
This is extremely rare: it occurs in fewer than 1 in 10,000 people who undergo blepharoplasty and is reported mostly in people having lower eyelid Blepharoplasty and is thought to be due to excess bleeding causing pressure behind the eye.
Do you live in Brisbane, Sydney, the Gold Coast, or "out of town?" and still have questions about Blepharoplasty (Eyelid surgery)?
Dr Georgina Konrat and her team are here to help you become fully informed about Blepharoplasty (Eyelid surgery) and empower you with the knowledge you need to make important decisions about surgery. We welcome enquiries from patients in Brisbane, Sydney, the Gold Coast, and Australia wide.